Wystawa Światło² - dokument filmowy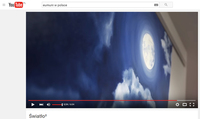 Krzysztof Solowiej (born in 1962 in Bialystok, Poland)
In years 1982-1987 he studied at the Institute of Fine Arts at Marie Curie Slodowska University in Lublin. In 1990 he graduated from Izabela Gustowska studio at the Academy of Fine Arts in Poznan. He lives and works in Poznan.
selected shows & exhibitions
1986: performence, Kont Gallery, Lublin, Poland; 1988: Biala Gallery, Lublin; 1989: ON Gallery, Poznan; 1990: Miejsce Zda(e)rzen Gallery, Chelm, Poland; 1991: ON Gallery, Poznan; 1992: Biala Gallery, Lublin; 1993: Polony Gallery, Poznan, Poland; Biala Gallery, Lublin; International Art Center, Poznan; 1995: Biala Gallery, Lublin; 1996: AT Gallery, Poznan, Poland; 1997: AT Gallery, Poznan, Poland; 1998: Biala Gallery, Lublin; Arsenal Gallery, Poznan, Poland; Arsenal Gallery, Bialystok, Poland; 2000: ON Gallery, Poznan; 2001: Biala Gallery, Lublin; 2002: Ego Gallery, Poznan, Poland; AT Gallery, Poznan; 2003: Wieza Cisnien Gallery, Konin, Poland; 2005: Biala Gallery, Lublin; Polonium 209, Chapelle des Carmelites, Toulouse, France; 2006: Kulturforum Burgkloster, Lubeck, Germany; 2008: Kruk-Solowiej, pictures and sculptures, Arsenal Gallery, Poznan, Zuch Madame i Kod Orientalny, Ego Gallery, Poznan, Murano glass sculpture - Fresh Glass exhibition (glass from Berengo Studio), Arsenal Gallery, Poznan, Poland; Murano glass - Glass Bridge exhibition during Mediations Biennale in Poznan; 2009: Sculptures and drawings, Kunst&Stucke, Wien, Austria;2010: sculpture, ThinkArt space Poznan, Poland; Jakie swiaty tu?, sculptures, Biala Gallery, Lublin, Poland; Mediations Biennale, Erased Walls, Poznan, Poland; 2011: Biała nad Białą, Galeria Bielska BWA, Bielsko Biała, Poland
Katalog wystawy Światło² / Light² exhibition catalogue
Duch kamienia
Z czego zbudowany jest świat? Jedne formy i materiały uznajemy za szlachetne i cenne. Inne są dla nas tylko bezużytecznymi śmieciami. Zapominamy często, że za szlachetną formą może skrywać się pustka. Zapominamy także, że piękno świata i wielkie idee mogą skrywać się w przestrzeni odrzucanej i zdegradowanej. Zapominamy, że świat pełni składa się i ze złota korony, i pogardzanego uschniętego patyka. W ten sposób nie tylko lekceważymy przejawy świata widzialnego. Jest to także wzgarda dla naszej własnej wrażliwości.
Twórczość Krzysztofa Sołowieja to bardzo rzadki przykład znaczącego połączenia warsztatowej perfekcji z nieograniczoną i bogatą wyobraźnią. Materiały, których używa do tworzenia swoich rzeźb-obiektów dobierane są niezwykle starannie pod względem wymogów formalnych i technologicznych, ale także ze względu na ich znaczenia symboliczne. Artysta nie waha się tworzyć zarówno w drewnie i metalu, jak i w zupełnie niespodziewanych materiałach jak kapsle od butelek czy plastik. Obiekty artysty znajdują się gdzieś na pograniczu między tradycyjną rzeźbą a formami przestrzennymi nazywanymi instalacjami. Wyraźnie rzeźbiarskim elementem w jego przedmiotach jest ich wewnętrzna spójność, pozwalająca na samodzielne egzystowanie bez istotnego wpływu otoczenia. Artysta używa jednak często elementów gotowych (plastikowe figurki, fragmenty ceramiki, lampy) przewartościowanych przez wplatanie ich w nowe układy, co charakteryzuje z kolei raczej instalacje. 
Krzysztof Sołowiej jest bardzo świadomy estetycznego aspektu swoich prac. Wymiar estetyczny jest dla niego podstawową sprawą dla odbioru jego sztuki, bo daje szansę na pełny i aktywny odbiór. Przekroczenie warstwy zewnętrznej, wizualnej, pozwala nam przenieść się na znaczne bardziej złożony poziom znaczeń symbolicznych. Przeźroczystość poziomu estetyki umożliwia szybkie pominięcie wrażeń wizualnych i skupienie uwagi na wyobraźni, do której sztuka artysty się odwołuje. Oglądanie jego wyrafinowanych obiektów zmusza do swobodnej gry wyobraźni, zadawania pytań i skłania nas do odejścia od subiektywnej wizji artysty i przejścia do równie subiektywnej wizji odbiorcy. Czystość, spójność i wyrazistość jego sztuki umożliwia nam konfrontowanie jego postawy z naszą własną historią i indywidualnymi doświadczeniami. 
O tym, jak bardzo sztuka może poruszyć wyobraźnię możemy się przekonać, gdy próbujemy analizować "The secret of double delights". Wyrzeźbiona w drewnie postać kilku-,kilkunastoletniego dziecka stoi na drewnianej skrzyni. Z rysów jego twarzy nie możemy jednoznacznie określić płci dziecka, ale możemy przypuszczać, że niebawem ulegnie ona zdefiniowaniu, bo wydaje się, że dziecko wkrótce wkroczy w okres dojrzewania. Jego świat beztroski i nieokreśloności odejdzie niedługo bezpowrotnie w przeszłość. Dziecko ubrane jest w wyrzeźbione szaty, na głowie ma rodzaj korony, a w ręce trzyma coś, co przypomina pasterski kij. Jego sylwetka nasuwa skojarzenia z figurami sakralnymi lub androgynicznymi aniołami. Dziecko stoi lekko wyprężone na uniesionych palcach stóp, co kontrastuje z jego zamkniętymi oczami i spokojem na twarzy. Po jego lewej stronie znajduje się drewniany osiołek wnikający w ścianę. Osiołek wraca z prawej strony dziecka wychodząc ze ściany głową i jedną nogą. Możemy zaryzykować przypuszczenie, że osiołek jest podwładnym i posłańcem dziecka-pasterza wobec świata. W metaforyczny sposób penetruje on niedostępną dziecku przestrzeń, co podkreślone jest dodatkowo przez opozycję wyjścia-wejścia zwierzęcia. Osioł symbolizuje często głupotę, ale to także na nim Chrystus wjeżdża do Jerozolimy, a w tradycji islamu (np. w sufizmie) symbolizuje fizyczność ciała, w którym uwięziona jest dusza człowieka. Stosując taki trop interpretacyjny możemy założyć, że osiołek służy dziecku do przystosowania się do nadchodzącego świata dorosłości.
Bogactwo wyobraźni, zderzanie różnych kontekstów i rozmywanie znaczeń jest obecne w każdej pracy artysty. Zawsze są one silnie nasycone symbolami zamkniętymi w złożonych, ale spójnych wewnętrznie i harmonijnych układach. Tak jest w rzeźbie "Anamnesis" - gdzie artysta zestawia ze sobą murzyńską głowę i uniwersalne formy ceramicznych garnków i dzbanów, lub gdy rzeźbi w drewnie "Christoforosa" o psiej głowie na dziecięcym drewnianym wózku kontrolowanym przez parę naprężonych lejców. "Christoforos" jest ponadto niezwykłą próbą stworzenia domniemanego wyobrażenia nieistniejącej rzeźby bizantyjskiej. 
Artysta nigdy nie podejmuje w swojej twórczości tez, których jego obiekty mogłyby być przedstawieniem. Jego sztuka nie jest ograniczana wstępnymi założeniami, niczego nie ilustruje. Odbiorca ma zawsze do czynienia ze sztuką żywą, pobudzającą wyobraźnię i wzbogacającą. Możemy wyraźnie odczuć jego zaskoczenie i ciekawość tworzenia. Artysta daje się uwieść własnej fantazji, a widz zostaje uwiedziony przez wizualne i znaczeniowe warstwy jego rzeźb. Obiekty/rzeźby Krzysztofa Sołowieja przywracają wiarę w sztukę. 
Dariusz Głowacki