Wystawa Światło² - dokument filmowy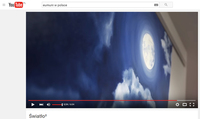 Danuta Krupska-Sołowiej

Danuta Krupska-Solowiej (born in 1965 in Krapkowice in Poland)
In 1990 she graduated from Jerzy Kalucki's studio at the Academy of Fine Arts in Poznan. She lives and works in Poznan
selected shows & exhibitions:
1989: DESA Gallery, Poznan, Poland; ON Gallery, Poznan, 1991:ON Gallery, Poznan; Arsenal Gallery, Poznan; Arsenal Gallery, Leszno, Poland, 1992: Biala Gallery, Lublin, Poland, 1993: Hoffman Gallery, Poznan; Arsenal Gallery, Gniezno, Poland, 1995: Arsenal Gallery, Poznan; Biala Gallery, Lublin, 2001: U Jezuitow Gallery, Poznan, 2005: Renes Gallery, Poznan; Lufcik Gallery, Warszawa, Poland; 2010: painting, ThinkArt space Poznan, Poland
CONTACT: krupska.solowiej@gmail.com
Katalog wystawy Światło² / Light² exhibition catalogue
Postmodernistyczny Anioł na niebie
Potrzeba doświadczeń religijnych jest wyrazem odwiecznych prób znalezienia sensu i wytłumaczenia świata. Znaczny obszar sztuki wyrasta z braku uzasadnienia dla porządku doczesności i zarazem z chęci znalezienia bezpiecznej dla świata formuły. Porządek sztuki nie może dać pełnej odpowiedzi na nasze wątpliwości. Może jednak zbliżyć nas do naszych tęsknot i przypomnieć ich niezmienny, wieczny charakter.
Twórczość Danuty Krupskiej-Sołowiej jest niezwykle interesującym przypadkiem balansowania między malarstwem pojmowanym jako czysto estetyczna przyjemność wzrokowa, a światem pełnym symbolicznych i nieoczekiwanych zderzeń. Pozornie eklektyczny i ulotny świat w jej obrazach jest w gruncie rzeczy niezwykle silny i zrównoważony. Prawie abstrakcyjne kompozycje są silnie zgeometryzowane i prawie zawsze oparte na centralnej kompozycji. Kolory są przeważnie pastelowe i położone w nieco efemeryczny sposób, a powierzchnia obrazów matowa, nieomal plakatowa. W malarstwie artystki znajdziemy dwa nurty. Nie są one wobec siebie opozycyjne, a raczej się wzajemnie uzupełniają. 
Charakterystyczne dla pierwszego nurtu są kształty odnoszące się do form organicznych: kwiatów, muszli, kamieni oraz uproszczone formy przypominające schody, fontanny, basen lub ogrodowe ścieżki. Modelowym przykładem takich obrazów są: "Arranging of the heaven IV", "Arranging of the heaven VI" lub "Arranging of the heaven V". Kompozycja tych obrazów jest bardzo zwarta, oparta na silnych, przypominających muzyczną frazę rytmach. Miękkość i zwiewność form podkreślona jest przez skontrastowanie ich z silnymi kształtami geometrycznymi: rombem, kwadratem i prostokątem. Obrazy te bardzo silnie kojarzą się z idyllicznymi wyobrażeniami ogrodu i z projektowaniem przestrzeni, której przeznaczeniem jest odpoczynek i kontemplacja. Znajdziemy w nich melancholijną tęsknotę za idealnym światem. Skojarzenie z rajskim ogrodem lub ogrodem orientalnym (np. Dziedzińcem Lwów w Alhambrze) przychodzi automatycznie. Częsty motyw osiowania kompozycji na centralnym punkcie nawiązuje do budowania i komponowania harmonijnego świata w ramach zamkniętego obszaru. Dosyć duże formaty tych obrazów pozwalają oglądającemu na nieomal fizyczne wejście do ogrodu, który jest refleksem wyobraźni artystki zapisanym na dwuwymiarowej płaszczyźnie płótna. To prawie rzeczywiste dotknięcie wibrującego i żywego świata jest spotkaniem bardzo zmysłowym i magicznym. 
Obrazy należące do drugiej grupy są równej wielkości i kształtu. Są to tym razem kwadraty. Użyte kolory są bardziej zdecydowane i straciły swoją eteryczność, są mocno zgrafizowane i zostały płasko położone. Kolor jest w tych obrazach podporządkowany ikonografii i służy podkreśleniu treści obrazu. Jego rola jest mniej związana z estetyką, a bardziej ze znaczeniami i przekazem zaproponowanym przez artystkę. Obrazy charakterystyczne dla tego nurtu to: "An Angel and Robocop in the common heaven V", "An Angel and Robocop in the common heaven III", "An Angel and Robocop in the common heaven I", albo "An Angel and Robocop in the common heaven II". Zaskakuje nas w tych obrazach bardzo frapująca ikonografia. Z jednej strony znajdujemy wyobrażenia odnoszące się do przedstawień religijnych: anioły i wizerunki postaci przypominające świętych, a z drugiej przedstawienia dziecięcych zabawek: robocopa, transformersa i statków kosmicznych. Skontrastowanie świata form sakralnych z uchodzącymi za przejaw tandety, magnetyzującymi dziecięcą wyobraźnię wytworami pop-kultury niesie ze sobą ogromny ładunek i owocuje silnym przekazem. Artystka zestawia obok siebie teoretycznie bardzo różne światy i kody kulturowe w ramach jednej spójnej przestrzeni. Wspólnie koegzystuje fantastyczno-infantylna dziecięca wyobraźnia i mistyczne wyobrażenia religijne człowieka dorosłego. Silna konstrukcja obrazu sprawia, że jest to pokojowa i pozbawiona dysonansu współobecność. Artystka ujawnia, że być może nasze dorosłe pragnienia i próby zrozumienia świata i jego porządku niewiele różnią się od naiwnych dziecięcych prób. Wydaje się, że nasze zdumienie wobec istnienia i próby znalezienia w nim swojego optymalnego i sensownego miejsca nie podlegają banalnej interwencji czasu. Może naiwność dorosłego człowieka tak bardzo nie różni się od naiwności dziecka? W obrazie "An Angel and Robocop in the common heaven VI" znajdująca się w centrum planeta otoczona jest przez cztery anioły i dwa błękitne transformersy. Planeta jest zapewne nieświadoma ewentualnych zewnętrznych sił i zagrożeń. Jest ona chroniona w podobny sposób jak nasza codzienność chroniona jest przez bufor kultury i to właśnie kultura pozostaje ostatecznie czymś pewnym i stabilnym. 
Bezpretensjonalne, znakomicie skomponowane obrazy Danuty Krupskiej-Sołowiej przypominają nam w delikatny, a jednocześnie sugestywny sposób, że sztuka i kultura są warunkiem naszej harmonijnej egzystencji. Przejawem kultury jest oswajanie natury w przestrzeni ogrodu, dający poczucie bezpieczeństwa świat dziecięcych herosów i świat religijnych symboli człowieka dorosłego. Bez przestrzeni kultury i sztuki nie da się postawić żadnych pytań, ryzykowne jest też oczekiwanie jakichkolwiek odpowiedzi. 
Dariusz Głowacki