Wystawa Światło² - dokument filmowy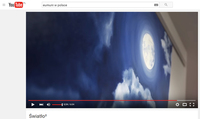 Izabela Rudzka

Izabela Rudzka (born in 1964 in Poznan, Poland) In the years 1984-1989 she studied at the Poznan Academy of Fine Arts. In 1989 she graduated from professor Jerzy Kalucki's studio of painting and the studio of tapestry supervised by professor Anna Goebel. She was granted the scholarship of the Ministry of Culture and Art in the years 1989-1991. In years 1989-1997 she was an assistant lecturer in the studio of painting of the Artistic Department at the Academy of Fine Arts in Poznan. Izabela Rudzka is a painter and a fashion designer. In 2007 and 2008 she made glass sculptures in Berengo Studio on Murano in Venice. She was also one of the curators of the Fresh Glass exhibition in Arsenal Gallery in Poznan and Glass Bridge exhibition during Mediations Biennale in Poznan in 2008.
selected shows & exhibitions
1988: tapestry, K Gallery, Poznan, Poland; 1989: painting, Desa Gallery, Poznan; 1992: painting, Lyss, Switzerland; 1993: painting, International Art Center, Poznan; 1994 painting ABC Gallery, Poznan; 1996: painting, Polonez Gallery, Poznan; 1998: painting, Wieza Cisnien Gallery, Konin, Poland; painting, ABC Gallerey, Poznan; painting, Galleri Fonseca, Copenhagen, Danmark; painting, Zamek Ksiazat Pomorskich, Szczecin, Poland; 1999: painting, Oranzeria Gallery, Radzyn Podlaski, Poland; 2001: painting, ABC Gallerey, Poznan; 2002: painting, ABC Gallerey, Poznan; 2005: painting, ABC Gallerey, Poznan; 2007: painting and glass sculptures, Berengo Collection, Venice, Italy; 2008: Murano glass sculpture and paintings - Fresh Glass exhibition (glass from Berengo Studio), Arsenal Gallery, Poznan, Poland; Murano glass - Glass Bridge exhibition during Mediations Biennale in Poznan; 2010: painting, ThinkArt space
CONTACT: izabela.rudzka@wp.pl
Katalog wystawy Światło² / Light² exhibition catalogue
Wieczne światło
Światło, fenomen wydobywający świat z mroku nieistnienia, obecne jest w sztuce od wieków. To ono stwarza kolor, wywołuje ciepło i sprawia, że wyczekujemy z niepokojem lub radością następnego dnia. Światło nie dzieli świata na lepszy i gorszy. Nieważne czy pochodzi od słońca, lampy lub świecy. Kategorie wartości są pochodną fenomenu kultury, a malarstwo jest jednym ze źródeł, z których czerpie ona swoje siły i słabości.
Malarstwo Izabeli Rudzkiej jest niezwykle bogate i wyrafinowane. Powstałe na powierzchni nawarstwienia farb tworzą często relief, który jest śladem długotrwałego procesu malowania. Zastygła farba staje się niemal rzeźbą o wyszukanej i ciepłej kolorystyce. Używając nieco poetyckiego języka możemy powiedzieć, że jej obrazy są jak dojrzałe owoce sąsiadujące z bukietem jesiennych liści. 
Twórczość Izabeli Rudzkiej czerpie z bardzo bogatego wachlarza różnorodnych tradycji malarskich i kulturowych. Wrażliwość i baczność artystki pozwala jej na oderwanie się od zgiełku codzienności i zaaferowania teraźniejszością. Naszą uwagę od razu zwraca umiejętność korzystania z malarskich i artystycznych doświadczeń oraz zakorzenienie w przeszłości. Bynajmniej nie oznacza to wcale, że jest to sztuka wtórna. Jest odwrotnie. Być może najbardziej interesująca jest w jej przypadku umiejętność wykorzystania tradycji do podporządkowania jej swojej własnej silnej indywidualności i stworzenia własnej drogi artystycznej. Atrakcyjność jej malarstwa polega nie tylko na wizualnych i warsztatowych analogiach do innych twórców, ale przede wszystkim na bliskości postaw i sposobie myślenia o sztuce. 
Jest kilka takich warstw i tradycji, które udało się artystce zaadoptować z powodzeniem do własnej sztuki. Pierwszym tropem, który zostawił ślad na jej twórczości jest bezimienne malarstwo naskalne z grot Lascaux i Altamira. Możemy przypuszczać, że celem nieznanych artystów było pragnienie oswojenia świata i zarazem trwożny wobec niego zachwyt. Wizualnym echem tych starożytnych dzieł jest na przykład "Interior and Lions" namalowany przez Izabelę Rudzką. Obraz zamknięty jest w kompozycyjnej ramie, jaką tworzy namalowany kadr okna. Wnętrze okna wypełnia grupa pędzących lwów, a może jeleni. Opozycja okna przynależnego cywilizacji i zwierząt za oknem uświadamia nam nagle, że czas i bezpieczeństwo naszego domu i naszego "dzisiaj", są tylko pozorne. Niebo i drzewa tuż za oknem są przejawem tej samej niepokojącej natury, jaką z wnętrz swoich grot widzieli artyści z Lascaux i Altamira. Nasze obawy, zachwyty i pragnienia nie różnią się tak bardzo. Może wystarczy spojrzeć uważnie przez okno, aby zapomnieć o dyktacie codzienności. 
Sposób, w jaki artystka wydobywa światło w swoich obrazach przypomina z kolei tradycję Rembrandta. Jest to nie tylko podobieństwo formalne, ale i pewne podobieństwo postaw. Tak jak u Rembrandta obrazy Rudzkiej budowane są w nieśpieszny sposób i pełne nawarstwień farby. Ta swoista powolność świadczy w pewien sposób także o obojętności wobec artystycznych mód i opinii krytyków. Artystka woli być wierna sobie i swoim obrazom niż koniunkturalnym upodobaniom. Przyjmuje dystans wobec pędu codzienności i chaosu świata. Refleksem takiej postawy jest "Interior with a Horse" lub "Orange Lake". W obu tych obrazach artystka buduje światy, w których światło i kontrasty jasnych romboidalnych form są fundamentem konstrukcyjnym.
Efektem postawy bacznej obserwatorki przyjętej przez artystkę w "Moroccan landscape" jest z kolei spójny i pełen harmonii świat. Natura, rzeka i góry koegzystują ze światem człowieka - plamami pól uprawnych i śladami traktów. Prawie abstrakcyjny obraz zrównoważonego świata wprowadza ład i spokój. Poprzez ten obraz każdy z nas ma także szansę na nabranie komfortowego dystansu i akceptację wobec życia i rzeczywistości. 
Podkreślenia wymaga również ciepła i przyjazna kolorystyka płócien artystki. Przypomina ona nieco malarstwo Pierre'a Bonnarda i Edouarda Vuillarda. Podobnie jak u francuskich artystów znajdujemy w jej malarstwie ciepły i przychylny stosunek wobec życia. Coraz rzadsze świadectwo czerpania radości z życia, afirmowania go i pochwały wobec świata znajdziemy w "Balcony Scene". Nie oznacza to jednak braku niepokoju i stawiania niewygodnych pytań przez artystkę. Opowiada ona w swoich obrazach także o strachu, samotności czy wyalienowaniu. Przykładem takiego obrazu jest "Blue Sofa" i "Interior with an Armchair". 
Dariusz Głowacki